ANYFIT is the first nationwide (Germany) mobile booking system for a large variety of fitness and sporty spare time activities. Users can search for fitness activities in their vicinity via their mobile phone. If there is a special need or interest, the user can filter the results for price, distance and type of sport. Each gym/vendor has his own profile page. After researching the vendors, the user makes his buying decision. After booking his single ticket he receives a unique QR-Code. This code gets scanned by the vendors via Webcam or Smartphone.
ANYFIT receives a fee for every booking. Our customers are people who want to stay active and live a healthy lifestyle. They want to try and discover new activities, no matter where they are. At the same time they want to stay independent (no contractual commitments).
ANYFIT is located Leipzig, Germany. Our team consist of 3 members (Jonas Heinroth, René Breckau and Mathias Kahl) and we are working on this project since September 2014.
Team

Jonas Heinroth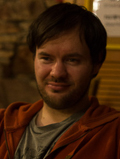 Mathias Kahl

René Breckau
Hub
Hub Hamburg
Domain
www.getanyfit.com
Contact
+49 152 53761045
jonas@getanyfit.com
Address
Naundörfchen 32
04109 Leipzig
Company
ANYFIT
www.getanyfit.com